Ticks –  the most common problem in furry animals like dogs, cats, guinea pigs and what not. But if your dog or cat is spending the most time with your children or on you couch, then it is really important that you find out a way for prevention of ticks in dogs. Prevention of ticks is no rocket science; it is just pure dedication and confidence on the treatment.
I have made a list of tips which are effective against prevention of ticks in dogs.
Tick powder for dogs
Tick powders are something which I can vouch for; since my childhood days I have tried this on my dogs and the results were amazing. The one brand which I can strongly recommend is Notix. Notix has been around in India more than 20 years and is very good product. The only disadvantage I noticed is the hair of the dog becomes rough. I would not recommend to use it regularly. You can use it when the ticks are too much out of control, around once a month or maximum twice a month.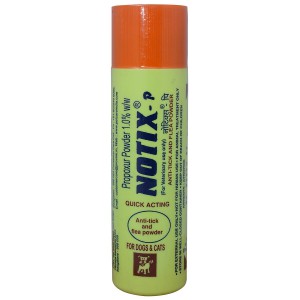 Related – Check out other tick powders online
Tick shampoo for dogs
Giving your dog a nice bath is not only refreshing but can get rid of ticks and fleas too. But, just a water bath is not enough to get rid of all the ticks and fleas. If this is the first time you are giving your dog a bath then you should consider reading my post on-how to give your dog a bath.
For an effective tick treatment you should use shampoos which have tick repellents. Make sure the tick shampoo is made up of ingredients like cedar, neem, eucalyptus, lavender or citrus. Some say even apply fennel leaves have shown significant results. If your dog has long hair then you could consider getting a hair cut too. There are lot of dog hair styles which are short and trendy this summer and do not worry of your dog looks.

You can also read more about – Best dog shampoos in India
Tick collars for dogs
This is something new for me to tell about, but my friends who got tick collars put on their dogs seem to be telling the results are amazing. I wonder how does this really work. If you do know it then please share the GYAAN to me too.
Tick spray for dogs
Tick sprays are very similar to tick powders. Tick sprays are easier to apply and there is no tendency to drop the spray like dog powders. It is very effective as dog powders. The only problem is some dogs don't like the spray and do run away. I assume it could because they do not like a liquid sprayed on them. In this case you are better off with tick powders.
Treat the house and lawn
Once you have given one of the above treatment to your dog or cat, the next step is to ensure no more ticks come back in the future. Vacuum your carpet and couch. Also try to apply borax powder on the dogs bed as preventive measure. Borax powder is effective in killing the eggs of ticks and fleas. If you have a garden or a lawn then plant eucalyptus or fennel or any tick repellent plants.
If nothing else works the problem appears to be serious and you should serious consider consulting a veterinarian.