Taking care of a dog is very similar to taking care of kids. You need to give utmost care to food and hygiene to keep your dog healthy. Just like you buy baby soap & shampoo looking for those minute details, you need to do the same with your dog. For instance you cannot use a puppy soap for an adult dog and vice versa. Also some shampoos are meant for dandruff and some are meant for dog fleas and ticks on dogs.
Before buying dog hair care products you need to find out which is the best dog shampoo in India  and find out the reason why it is the best. Just because some celebrity endorse a brand does not mean it is the best for your dog.
Check if the shampoo can cause itching for your dog.
Check if the shampoo is gentle.
Check if the shampoo performs antibacterial action.
I have managed to make some list of dog shampoo which is available in India in most e-commerce portals which you can find below:
Himalaya Erina Plus Coat Cleanser with Conditioner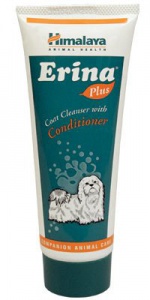 Himalaya products are not only good for us, they also have a wide variety of himalaya pet products. Himalaya Erina plus coat cleanser contains Erina which protects most dogs with most commonly found pathogens that causes itching and bacterial infection. It also contains anti bacterial cleansers and also acts as a good conditioner.
Beaphar Bea Dog Shampoo


Beaphar Bea Dog Shampoo is a good product for dark coated dogs. It is specially pH formulated and should suit most dogs. This shampoo makes the dark coated dogs shine very well and also smells good. This shampoo contains Aloe Vera which is a natural extract which acts as a natural moisturizer.
Choostix Dog Shampoo Skin and Coat

Choostix has been in the pet industry for past 15 years and their research team is quite strong. Choostix Dog Shampoo Skin and Coat contains Aloe vera extract and is helpful in preventing blisters, insect bites, allergic reactions, wounds helping to maintain healthy skin.
Choostix Dog Shampoo Tick and Flea

Another Choostix product which is very effective agains Tick and Fleas. It acts as a natural conditioner and is gentle on your dogs skins as against to other tick and fleas shampoo. It is made of neem extract and green apple extracts.  It is also very good on hairy dogs.
Robust Flea and Tick Jojoba Oil Dog Shampoo


Robust introduces anti tick flea shampoo with Jojoba oil to give the optimum conditioning for dogs. It is made of natural extracts and is herbal. It is very gentle on the dog's skin and works like a charm
These are some of the products I have used for my dogs and also some of them are used on my friends dogs and they seem to be working fine so far. In case you know better products please feel free to post your comments below.