Today, there are a lot of options for dog food in India. During the 1980's or 1990's I do not think there were enough options for dog food in India like today. Times have changed so much and today we have enough good brands offering the best dog food in India. In case you are not able to prepare dog food at home then you have to definitely hunt for the best dog food available.
But, before buying a dog food, did you every analyze the ingredients of the dog food? Did you find out more what is the nutrition your dog is receiving based on its size? Before buying any dog; do note these points and then decide to proceed with the food or not irrespective of the brand.
The two main ingredient should always be first in the list.
Should not have any artificial colors, chemical preservatives added.
No harmful ingredients.
Complete  and balanced 100% nutritious diet.
Should not have less nutritious filler foods like Sugar or Corn syrup that replaces healthy food.
Should have natural or organic ingredients.
Dry food or Wet food?
During World War II pet food were only in metal cans. But due the war there was a serious shortage in metals and there stopped the production of metal cans. As the pet food business was hit they decided to 'bake & process' the canned food into dry food and pack them in bags. This was a temporary solution. The war got over but the dry food made its name as fast food for dogs. 
If you feel pet companies made the dog food dry thinking it is healthier, then you are wrong. We all would have studied in school that humans are made of 55%-75% water and so is the case with dogs and most other animals too. Dry food is in dense with calories and dogs fed excessively with dry food are usually overweight. Sadly, in India there are not much options for high nutritious dog foods in India. Always keep in mind to keep a bowl of water next to the dry food bowl.
Technology has advanced so much and research is being done everyday on dog foods and some of the well known brands have variety of options in both dry foods and canned foods. I managed to collect some of the well known brands here.
Royal Canin Dog Food
Royal Canin originate in France in 1967 and since then has spread its products across the globe.
It has become a household dog food name in India. They have a wide variety of options of dog food based on size, age, breed and lifestyle for cats or dogs. The main ingredients of their products are Chicken meal, brown rice, corn, chicken fat and wheat gluten. It is available in
a.) Amazon
b.) Snapdeal – Buy Royal Canin Dog Food Maxi Junior 15 Kg from Snapdeal
Pedigree again another household name for dog food in India. They have a wide options in dry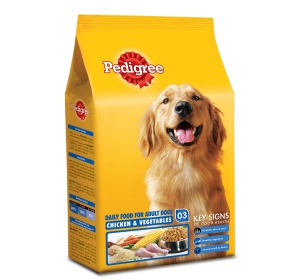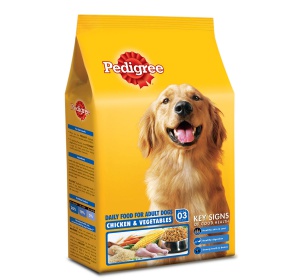 food, canned food and treats for dogs. They have lot of filler foods like Corn, Gluten meal. Before buying those big packets of Pedigree always buy a small 1kg pack and give it to your dog. Some dogs are allergic to Corn or Gluten meal. It is available in
a.) Amazon
b.) Snapdeal
You can read in more detail about Review of pedigree dog food here – http://petcaretips.in/review-of-pedigree-dog-food/
Eukanuba is not a very common dog food name in India like Pedigree or Royal Canin. It was
founded in 1969 and their product lines include 13 types of dry foods. The main ingredients of their products are chicken, chicken bi-product meal, corn meal and rice. It has got meat as main ingredient and it reduces to 1/4th when cooked and rest left would be rice and by products. It is available in
Jerhigh Dog Food
Jerhigh was established in 2002 and is very famous in producing the best dog snacks, dog food soft &
tender, wet food and healthy snacks. They are rich in minerals, proteins, carbohydrates and fat. Buy Jerhigh Liver Browny Chicken Pet Food (Pack of 3) from Snapdeal
Drools Dog Food
Drools is another well known brand and they are known for manufacturing the dog food under direct
supervision from veterinarians and nutritionists. Their food is categorized based on age & size. Just like Eukanuba it has got meat as main ingredient and it reduces to 1/4th when cooked and rest left would be rice and by products.
Related : Buy Drools Optimum Adult 20 KG Bag from Snapdeal
Unfortunately some of the best dog foods like Nutra Gold, Taste of the wild, Arden Grange are still to be sold in India. In case you come across more nutritional dog foods being sold do let me know. I will update the post with your details.
In summary the best dog food is the home made food with freshly cooked chicken, beef, eggs. Giving dry food once a day would be fine. Replacing the regular food with these dry foods are not recommended by veterinarians either.
Related – You can also check the Petcaretips.in Shop here.