Unfortunately, nowadays, many people don't have this kind of image in mind when thinking of police.
People living in Basaveshwaranagar will be recognizing Mr.SUBRAMANYAN M.N the Assistant Sub Inspector of police, Traffic attached to the Vijayanagar police station who normally does his duty in and around Basaveshwaranagar. He is one of the upright and humane cops in the area that I have personally seen many a time helping people and being nice to the public.
This incident tonight shows the more humane side of him which I was fortunate enough to join hands with and help along with one more kind and humane fellow resident who goes by the name of Arjun.
Location: Basaveshwaranagar Main Road.
Date/Day: 12 July 2015/ Sunday
Time: 9:00 p.m. to 11:00 p.m.
INCIDENT: As I was walking from the medical stores getting medicines for both of my parents who were ill, I came across one incident of a two wheeler having hit a street dog and had left it to die in pain. It was severely injured and writhing in pain when I happened to notice Mr.SUBRAMANYAN who was on the opposite side of the road walking across and then diverting traffic and also keeping stones around the dog so that the vehicles would get away from the direction where the dog was lying on the road.
I was at some distance from him and walking towards him when I saw him frantically trying to get help to save the dog. As I came close and saw the dog in pain, I found out as to what had happened and he was looking out for some sort of help. In the meantime, there was also a fellow resident of the area whose name was Arjun and he was taking his dog out for a walk and came to help.
I told Mr.Subramanyan that I would call up some people and find out where to get help and eventually we found out that a pet care center going by the name of M/S KRUPA LOVING ANIMALS at Kengeri Upanagara was ready to help but for the fact that they currently didn't have any vehicles to transport the injured dog and asked if we could get the dog to their place.
So we looked out for a transport, basically an auto for help regarding the same. We asked for an auto driver who upon knowing what he had to transport refused to the point of not having any humanity at all even though Mr.Subramanyan requested for the same. Eventually we found one auto driver by the name of Mubarak bearing the auto registration number KA 02 2203 who agreed to help us and not even charge the fare for the same (He was eventually paid the charge which he took after much coaxing).
So with Mr.Subramanyan and Arjun getting into the auto with the dog and I following them on my vehicle we went to the pet care center and delivered the dog for treatment. Upon reaching there with great difficulty and losing the precious golden hour, we got to know later that the dog had succumbed to the injury and the care center said that it would be taken up for burial in the morning.
It was really very sad upon knowing the same in spite of giving our best to help save the poor dog's life.
I then dropped Mr.Subramanyan and Arjun to where he had parked his bike in Basaveshwaranagar near to the accident spot. Mr.Subramanyan thanked both of us for helping him out with this and I was very humbled that he was thanking us when in fact we were the ones who were supposed to be thanking him for his golden heart of helping the injured animal which he could have ignored and not bothered when in fact there was one more cop who did not bother to help and turned the other side and went away.
The fact that Mr.Subramanyan in spite of his shift getting over and that too on a Sunday night was still ready to help in spite of it being 11:00 p.m. by the time we were done and care for the same made me feel proud of some of the cops who really have a good heart and sincerely wanted to help to make a better place for all of us to live in.
Police officers are given a hard time and a bad rap and yet when you are in desperate help, the first people you call are the Police, If you have lost faith in the Police by some bad news that you read about on the news, or the ones who happen to go viral on YouTube for the wrong reasons, It's always nice to be reminded that the rest of them shouldn't be thrown into the same category.
If you care to pay attention, there are stories like these every day about the cops with a humane touch….
Thank you MR.SUBRAMANYAN for being the kind soul and teaching us to be humble and firmly rooted to the ground and also to lend a helping hand to the needy at all times irrespective of whether the needy happens to be a Human being or an animal.
Bengaluru Traffic Police – you really have to be proud to have people like MR.SUBRAMANYAN M.N in your team. KUDOS!!!
Regards,
Narayan Prabhakar
In case you come across such inspirational stories of humans helping animals, please mail it to [email protected]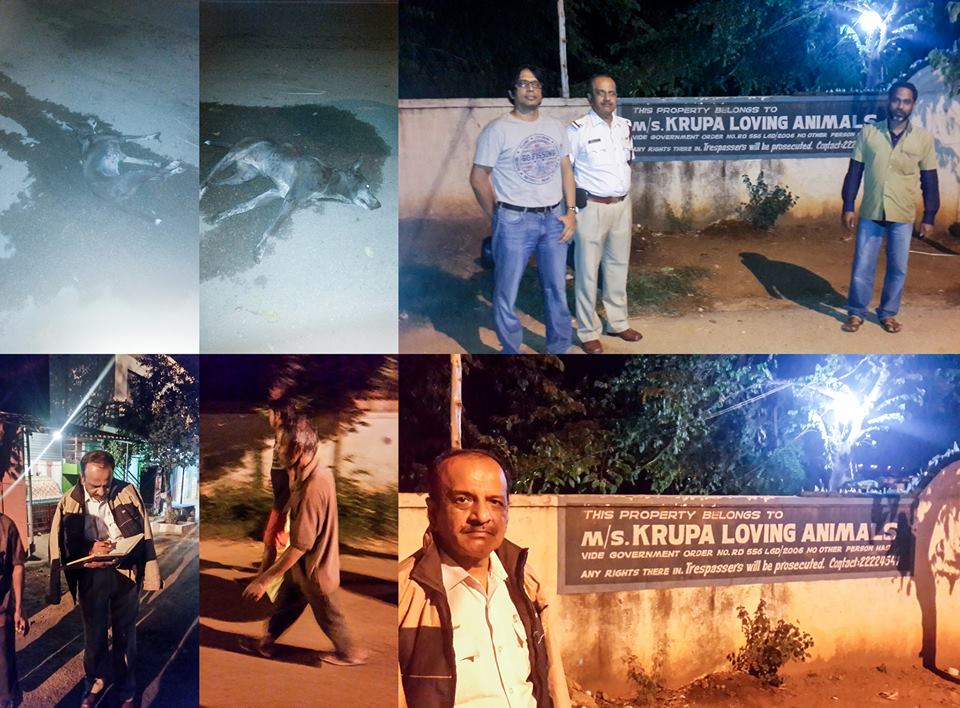 Source : Facebook